Yamino (aka Elena Barbarich) is a self-published, freelance artist graduated from the Savannah College of Art and Design, majoring in Sequential Art. In 2012 she earned a Master's degree in Creative Entrepreneurship from the Plymouth College of Art, England.

She was born in Rome, Italy, but has also lived in California, Austria and Belgium. She is fluent in English, conversational in Italian and French, understands most German and Spanish, and is teaching herself Japanese. Her favorite drink is bubble tea (aka boba).

Other than writing and drawing comics, her hobbies include voice-acting, dancing in front of the mirror, travel, learning languages, speaking in the 3rd person, posing for pretentious photos, and going on adventures with her wife, Ash.
A colorful, mysterious creature native to North Carolina, Ash writes the Missing Moments for Sister Claire and helps plan the comic's story with Yamino. Having earned her degree in Asian Studies a few years ago, Ash's day job is advising students at a local university in the Asian Studies department, where she advocates all dreams great and small.

When she's not molding young minds or fiddling with words, Ash can often be spotted building dart frog tanks, trawling local greenhouses, or cuddling her handsome little Dachshund. She also enjoys astounding passersby with her fabulous hair. By far and large, though, her absolute favorite pastime is going on travel adventures with her wife, Yamino.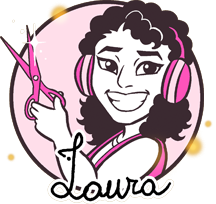 Overexcited fangirl ascended to editor, Laura discovered Sister Claire in 2015 and has been utterly obsessed ever since. Her duties include helping Ash edit the Missing Moments, plus the extensive making of Excel sheets, Google Docs, calendar markings, and everything else organizational—profuse fangirling aside (or not).
Back in her homeland of Brazil—which she'll never shut up about—Laura's finishing her undergrad in Psychology, and hunting for a new job and home. She's aided in this journey by atrocious amounts of Coca-Cola and a sleep schedule unbalanced beyond hope. Her other interests include sewing, writing, and fawning over her baby cousins.